AvRack Avständ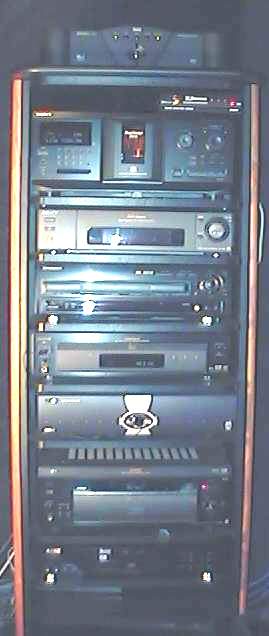 The Avständ is a stand for AV equipment that rotates on its own axis, allowing easy access to cables and the back of equipment. (My picture doesn't do this justice, check out their web site for much nicer pictures).
I ordered the tallest one (the 60" model) in cherry, after carefully measuring the height of all my equipment. In fact this was only just enough, as I had forgotten to add in the height of the shelves themselves, plus the air gaps needed for ventilation. As it happened, everything just fit fine. However subsequent equipment (e.g. the RCA DTC100) doesn't fit, which is why you can see that sitting on the top.
The unit arrives fully assembled, though it takes a while to get it out of the packaging and getting it positioned correctly on the base unit. You can order additional shelves if required, plus a turntable drawer and CD/DVD drawer if you so desire.
For some reason the spacing between the sides is about half an inch wider than a normal 19" rack would be, so real 19" equipment does not fit correctly. There is also no way to screw such devices into the stand without drilling your own holes.
For cable management every shelf has two sections of velcro on the back, which works quite well for a few cables, but not so well for huge amounts (see here for how my cables have got out of hand). There is also no provision for power, so I got a 19" rack power rail and put it at the bottom. Of course it doesn't fit right due to the problems described above, but it isn't noticable unless you crawl on the floor to take a look.
Pros
Rotation of the rack makes life so much easier
Looks really nice
Very well built
Comes already assembled
Rated for 280lbs of gear
Cons
Inexplicably wider than the industry standard 19"
Cable management not great and no provision for power cords
Additional Info
AvRack site.

ControlAV is a trademark of Andy Pennell.