ControlAV
ControlAV System Overview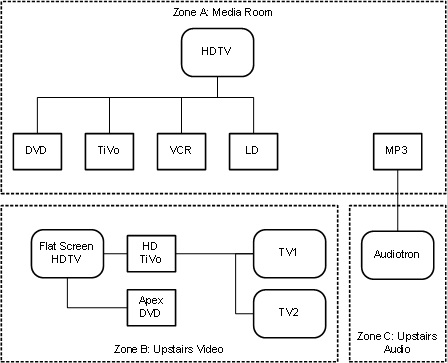 There are basically two AV zones: The media room, and everywhere else. Most equipment (apart from TVs) is in the media room, though we have some additional hardware upstairs as well. The house is "upside down", we live upstairs, the media room is downstairs. The third zone is audio-only.
The equipment is mid-range for the most part, accumulated over the past nine years. With the exception of the hi-def televisions and receiver, no individual component cost more than $1000.
AV Zone A: Media Room
This is where we watch movies and HDTV. It has the big TV in it, and originally had a sofa and a bunch of chairs. However thanks to eBay it now sports ten ex-AMC movie theater chairs on a two-level stage.

Audio goes through the receiver, with component video output fom the Sony DVP-S7700 DVD player, HDVGA output from the RCA DTC100 and the component oputput from the Xbox all going directly to the TV.
AV Zone B: Upstairs
This covers the lounge, the master bedroom and the games room. Normally we watch TiVo in these places, but occasionally we might want to see a DVD. The upstairs HD TiVo is connected directly to a Dell 30" W3000 LCD, and also has its composite output routed to a modulator and its IR input too, so it can be viewed and controlled from any TV in the house (in SD: we dont have the need to pipe an HD signal around the house just yet, which is good as that is both expensive and tricky).

Also connected to the LCD is our Apex DVD player so we can match movies upstairs, especially useful for our young daughter as the media room is not baby-safe.
Audio Zone C: Music
Our music collection is on around 110 gigabytes of MP3s, and we listen to via our Turtle Beach Audiotron.
Control
IR receivers sit on top of the televisions around the house and the signal is sent back along the same RG59 that carries the video signal to the HD Tivo, where it is blasted back out using the Xtra Link 2.

ControlAV is a trademark of Andy Pennell.